"I was the only boy in school with bespoke trousers" says George Dyer, the tailor on Walworth Road who was inspired to go into the trade by his Dad's needlework skills.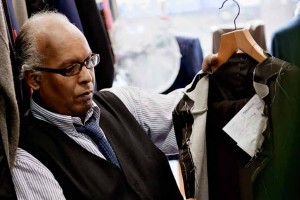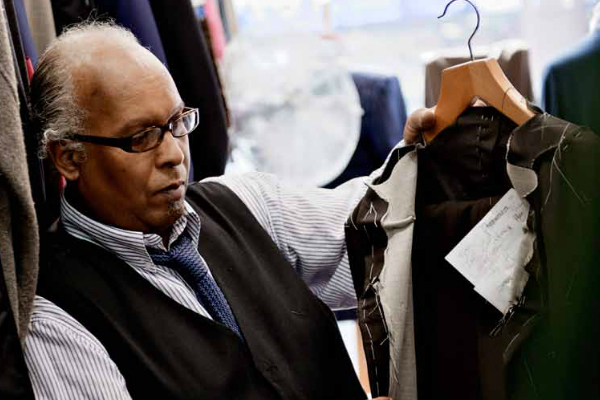 Since those early days growing up in Peckham he's learned his craft as an apprentice at Dombey and Sons and worked all over the city. Back then, tailors were common on most high streets and competition was fierce. Nowadays, discovering a business like Threadneedlemans in your neighbourhood is like finding a hidden gem.
"I've been in the business for the best part of 35 years and in that time I've made every style of suit and covered every fashion going" says George.
Taking over 187a Walworth Road in 1995, Dyer became the third tailor to occupy the narrow shop crammed with materials and cottons. He knew he'd made the right decision: "I was born in Jamaica but raised in Peckham from the age of four and these are my people" he says about the locals, "I don't want to be looked down on in the city, I want to be comfortable and be me. It's a South London thing."
I was the only boy in school with bespoke trousers
"I recently read a piece by Grayson Perry. He wrote that to be a craftsman was to be working-class nobility. I'll have a bit of that."
During his time in the Elephant, he's made suits for Suggs from Madness, actor Martin Freeman and boxer David Haye, to name but a few. With years in the business he's fused fashion and music with styles for "mods, skinheads, suedeheads, teds – you name it, I've grafted it." Is that why he has such a following? "Nah, it's because I'm the best," he says. And somehow, you don't doubt it.
www.threadneedlemantailors.co.uk
Read more about the people who live and work in Elephant and Castle
A version of this article was first published in the Elephant Magazine, Autumn 2013