It's not that easy to find La Barra, which is tucked away in the railway arches on the Low Line next to the Strata. But it still gets packed out, especially at weekends.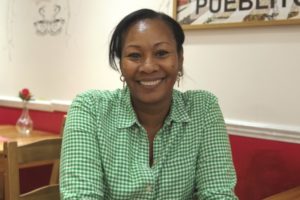 "On Saturday and Sunday, we sometimes have customers waiting outside, as every table is full" says Jennifer Riascos who helps her mum, Maria Luisa manage the bustling restaurant.
"It's called La Barra as originally it was just a long thin bar with a few stools. But gradually, as other businesses moved on, we took over more space. Now we have seating for 60 people" explains Jennifer.
"My mum is the best cook. People come from all over the city to eat her food. We get lots of Colombians, Bolivians and Ecuadorians, but also English, Polish and Indian. We've got some customers who come from Essex every few weeks and, last month, we had some New Yorkers who said it was the best Colombian food they'd ever had. They said we should open a restaurant over there."
Twenty years ago, Maria Luisa moved from Buenaventura, on the Pacific coast of Colombia, to London with Jennifer and her two brothers. As well as doing various cleaning jobs, Maria Luisa rented a stall to sell Colombian coffee, empanadas and cornbread at Vauxhall Market every Sunday.
Twenty years ago, Maria moved from Buenaventura, on the Pacific coast of Colombia
"My mum always liked cooking for people. She would wake us up at 5am and we'd go to the market and help her to set up" recalls Jennifer. "People loved her food so she started doing some other markets too. But in the end she just wanted to find a place of her own so she didn't have to move around all the time."
"I remember the day she told us that she'd found a space in this arch. We were all so excited."
La Barra opens at 8am for breakfast and a firm favourite with the customers is calentao with red beans and rice, pork belly, fried egg, chorizo and yellow plantain.
"It's massive and will set you up for the whole day" says Jennifer.
 "Recently, a customer asked why we couldn't open at six so she could come straight here for breakfast after clubbing. But we're already open seven days a week. We need some rest!"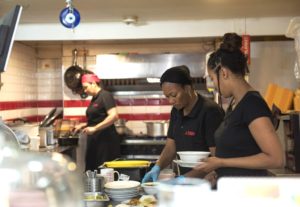 Throughout the day, there's an extensive menu that includes traditional Colombian favourites such as arroz paisa (a meat dish with corncake and red beans) as well as a vegetarian platter with rice, beans and lentils and cassava and avocado salad.
They also serve a freshly made soup everyday. "People say our soup tastes like their grandma's. It's made with a lot of love and we try to make customers feel at home as they often miss it so much" says Jennifer. "My mum loves everything to do with the seaside, so she often makes fish soup although she always puts other things in it, such as coconut, to make it a bit different."
The meat and fish is bought daily from nearby East Street Market and they get fruit and veg from the shopping centre across the road. "When we started out, we used to carry everything back ourselves but now that we're bigger, they deliver" says Jennifer.
They recently had to increase their order for chicken after a food blogger praised their version of the traditional Dominican dish, pica pollo (chicken, marinated overnight and deep fried).
"We used to prepare half a pot but now we make four big pots and even that's not always enough" says Jennifer. "We had a Dominican chef who tried to make the dish but she kept saying that something was missing. So mum experimented with different seasonings until she felt it was perfect."
"She won't tell anyone what's in it though. Not even me! I know there's lemon and garlic but the rest is her secret" she smiles.
Read more about the people who live and work in Elephant and Castle
A version of this article was first published in the Elephant Magazine, Autumn 2019