The Elephant and Castle shopping centre, which closed in September, represented a 1960s vision of retail.
A Modernist mall, in the American style, it eschewed the British notion of high street shopping in favour of an everything-under-one-roof approach.
Bring your car, park on site and you'll never have to set foot outside.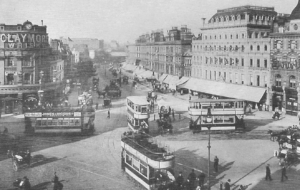 Today, as we tackle the twin terrors of air pollution and climate change (not to mention the need to get a bit more fresh air and exercise) the idea of a town centre built for motorists has had its day.
The shopping centre itself, replaced an old horse market that had traded on the site until the 1950s. And, when it's redeveloped, there will still be plenty of opportunity to shop. However, this time around, the new stores, as well as the new homes to be built on the site, will all be based around a street pattern designed to put pedestrians first.
From horses to motor vehicles and back to pedestrians: in a way, the current redevelopment marks something of a return to the past.
Elephant and Castle was once renowned throughout London as a fashionable place to shop for clothes, hats, shoes or even a new set of furniture. Indeed, coupled with its numerous theatres, music halls and later, its cinemas, by the turn of the 20th century the neighbourhood had earned itself a reputation as the 'Piccadilly of the South'.
Today, there are still a number of shops on Walworth Road that date back to the very start of Queen Victoria's reign, such as Schwar and Co, the jewellers (trading since 1838) and Baldwin's the herbalist (in business since 1844).
But you might be surprised to learn that there was also a branch of Harrods in the neighbourhood, too.
Harrod was found guilty of receiving 112lb of stolen currants
It wasn't a grand department store of the kind you'll see in Knightsbridge today. Although, Elephant and Castle did have plenty of big retailers of its own; Hurlock's, Rabbit's and the gigantic Tarn & Co. to name just a few. Rather, this Harrods was a small confectioner's shop located at No. 7 Newington Butts. It was run by Henry Digby Harrod, son of Charles who had established the first Harrod store, nearby in Borough.
Charles Henry Harrod was a young man of just 25 when he opened his first draper's shop in 1824 at 228 Borough High Street. He ran the business, here in Southwark, with his wife, Elizabeth for a number of years before moving across the river in 1832.
First he moved to Clerkenwell, where he branched out into groceries, then on to the East End, and eventually he arrived in Brompton Road, Knightsbridge, where the huge Harrods department store can be found today.
A recent book by his descendent, Robin Harrod reveals that Charles' career in retail was almost cut short in 1836 when he was convicted for handling stolen goods at his Cable Street shop. To be precise, he was found guilty of receiving 112lb of stolen currants, worth about £200 in today's money. Not the most heinous crime, but taken very seriously at the time.
Thankfully for Charles, he was spared a threatened deportation and seven years' exile in Australia. Instead, he was handed a relatively light, one-year prison sentence, while – in contrast – the man who sold him the stolen currants was deported to Tasmania.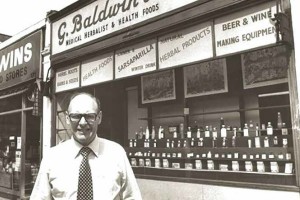 Charles' reprieve was largely thanks to a petition raised by associates who were willing to vouch for his good character, including Charles Walker, a tea trader based in London Road, Elephant and Castle.
A few year's later, Harrod would open his grocery store in Knightsbridge. Without Mr Walker and the others' intervention, who knows, maybe the world's most famous department store might never have existed?
Charles wasn't the only member of the Harrod clan who was trading in Southwark, either. He had a brother who ran a jewellery store, around the same time, on Tooley Street (just a short walk from the original draper's store) and his sons inherited good heads for business too.
It was around 1909 that one of his sons, Henry Digby Harrod established HD Harrod, the confectioner's in Elephant and Castle (alongside several other stores – including one nearby in Peckham).
Meanwhile, Charles' other son, Charles Digby Harrod, would go on to turn the Knightsbridge store into the Harrods empire we know today.
Thanks go to Robin Harrod and his book The Jewel of Knightsbridge
A version of this article was first published in the Elephant Magazine, Autumn 2020