Elephant and Castle is becoming a better place for pedestrians.
The Elephant Park development and the redevelopment of the shopping centre site are at the heart of this process; opening up new routes and reconnecting Walworth Road to the new Elephant and Castle town centre.
But there are also many other projects, to make walking in Elephant and Castle easier, that have already been completed or are currently underway.
Parks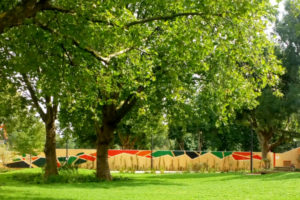 Lendlease's Elephant Park development is already home to a major new central London park.
In addition to this project, £6m of regeneration money is being spent on improvements to six other local parks.
St Mary's Churchyard Park
St Mary's Churchyard has been transformed. The park has been re-landscaped and a new children's playground installed; along with a new plaza, pond, fountains and seating. The park is also home to the new Castle Centre and Southwark Playhouse opened its new, purpose-built theatre here in January 2023.
Geradine Mary Harmsworth Park
Home to the Imperial War Museum, Geraldine Mary Harmsworth Park is being improved in two phases. The park keeper's lodge has been refurbished and the next phase will deliver a new playground.
Pullens Gardens
Part of the Pullens Estate conservation area, this park has undergone a complete redesign to make it a more inviting space and somewhere for local children to play.
Victory Community Park
The sports and play facilities at Victory Community Park are due to be upgraded. The pathways will be resurfaced and entrances and fencing will also be improved. Victory Place, the street that borders the south side of the park has already been made more welcoming for pedestrians and further improvements will be made to Balfour St, which runs along the east side of the park.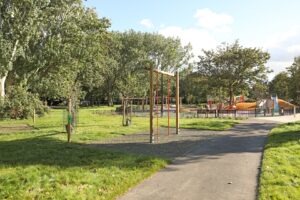 Dickens' Fields
Dickens' Fields reopened in autumn 2021 following a major revamp. The transformation combines what was Dickens Square Park; the site of the old adventure playground and Butterfly Walk into one, stunning, new, public green space, now renamed Dickens Fields. The revamp includes new entrances and pathways, better design and new signage. There are new benches, furniture and outdoor gym equipment and a new playground named after Anne Keane, who lived nearby on the Rockingham estate.
Adjacent to the park, the council has introduced a permanent width restriction to Harper Road with further work pending to make the area more pleasant for walking.
Nursery Row Park
Significant improvements are planned for the East Street entrance as well as an upgrade to the current play provision.
Squares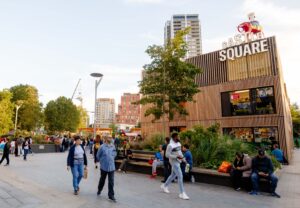 Regeneration has created three new squares in Elephant and Castle.
Elephant Square
Transport for London reconfigured the road layout at the Elephant and Castle junction to create Elephant Square in 2016. What was formerly an inaccessible traffic island has been transformed into a new, pedestrianised public space with the famous Michael Faraday Memorial at its centre and direct access to the Northern line station. Find out more
Castle Square
Castle Square, next to the entrance to the mainline station on Elephant Road, was built in 2016 as part of the first phase of the town centre development. This pedestrianised space, which opens onto the new park at Elephant Park, is currently home to many small, independent businesses that relocated from the shopping centre in autumn 2020. Find out more
Walworth Square
In 2018, the western end of Wansey Street (at the junction with Walworth Road) was pedestrianised and landscaped to create Walworth Square. Part of the Elephant Park development, this new square is home to the Southwark Memorial and when it reopens, the restored Walworth Town Hall will open directly onto this open space. Find out more
The Low Line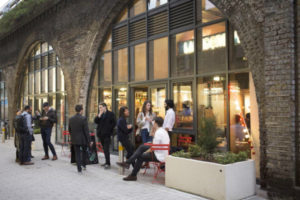 The Low Line is a scheme to create a walking route alongside the railway viaducts which connect Elephant and Castle to Borough, Bankside and Waterloo.
It started to take shape with the creation of Spare Street – a new street created near the Strata. In the process, five redundant arches have been transformed into a permanent home for local, not-for-profit enterprise, Hotel Elephant. This was soon followed by a number of other initiatives stretching from Spare Street to Manor Place,
A little further north (but outside of the regeneration area) Flat Iron Square and Old Union Yard both demonstrate the kind of improvements which could be made elsewhere and the Low Line's new, Green Vision sets an eco-friendly template for future initiatives across the whole route.
Find out more about the Low Line in Elephant and Castle
Streets for People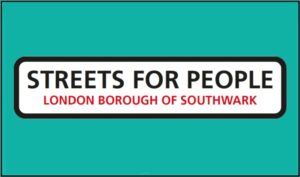 Streets for People is a council-led project to improve streets throughout the borough and to deliver healthier neighbourhoods, cleaner air, thriving town centres and safer roads.
Streets for People began in 2020 and has already included several projects in Elephant and Castle:
.
Find out more about Streets for People
Walk Elephant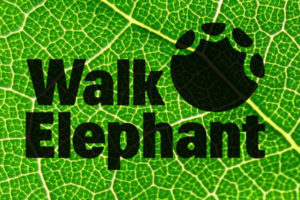 Launched in 2017, Walk Elephant is a community initiative to improve walking routes around the neighbourhood.
Inspired by similar, community-led projects in the area (such as East Walworth Green Links and Lamlash Garden) the initiative was kick-started by a series of community walks around the Elephant. These were used to identify opportunities for improvements such as new crossings, better landscaping or clearer signage.
Suggestions included: extending the green on the Newington estate to create a better walking route through to Steadman Street; work on the Alberta estate to improve the communal gardens; improvements to Hampton Street and Steedman Street to create a better walking route from Newington Butts to Elephant Park.
The ideas were plotted on several maps (PDF): An Overview map; a Detailed map and a Five key routes map
Since then, a Walk Elephant website has been created which includes these and many other ideas for the neighbourhood.