The two main developments at the heart of the regeneration are Elephant Park and the new town centre being built on the site of the Elephant and Castle shopping centre.
Overall, across the Elephant and Castle area, there are currently 26 projects that form the core of the regeneration programme (either complete, underway or in the pipeline). These are in addition to the 'early housing' developments built to rehouse former residents of the Heygate estate.
All of these projects can be found on the Regeneration Map as well as the early housing sites.
Elephant Park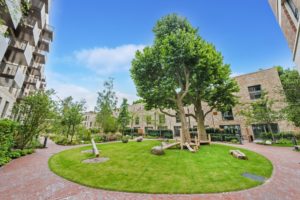 Elephant Park is a mixed-use development that will create around 3,000 new homes (including the recently completed Trafalgar Place, South Gardens and West Grove) and a major new central London park.
The park is already open, accompanied by an array of new shops, restaurants, cafes and community spaces – including the Tree House.
The developer, Lendlease has reinvigorating the area with a number of new green spaces. Lendlease has retained over 100 mature trees and planted hundreds more  and is committed to making the development one of the most environmentally sustainable urban regeneration projects in the world. Lendlease is a participant in the Climate Positive Development Programme, which means Elephant Park will be climate positive by the time it completes in 2025. Elephant Park also includes a combined heat and power plant, the Energy Hub, to enable the delivery of net zero-carbon heating and hot water to all the new homes.
Town Centre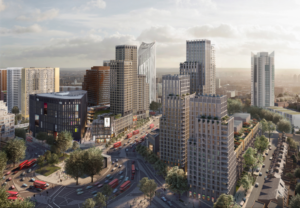 A new town centre is emerging at Elephant and Castle, with work now well underway to create a transformed environment for shoppers, retailers and residents, including an upgraded tube station and a cutting-edge new campus for UAL's London College of Communication.
Castle Square, a shopping destination which brings together local traders around a public square, has already opened.
The town centre will also bring fresh jobs and workspace, creating 1,230 construction jobs per year for a decade and then approximately 2,000 full-time jobs in the new town centre.
Bringing much needed new housing to the area, the town centre will create nearly 1,000 new homes for rent. These will be 35 per cent affordable by habitable room, including 116 new, social rented homes (managed by Southwark Council or another registered provider) as well as three social rent equivalent units, all offered in priority to people living and working in Southwark.
Working with neighbours and partners, the new town centre will contribute to the rejuvenation of the wider area, breathing new life into what is already one of London's most dynamic and vibrant places.
Other significant developments
Borough Triangle is a mixed-use development proposed by Berkeley. It will include new homes, office and retail space and a new public piazza. It will also open up another section of the Low Line. In the interim, the site is being used for the popular (albeit temporary) food market, Mercato Metropolitano.
Blackfriars Circus is a mixed-use Barratt development set around two new public squares and comprising several buildings up to 27 storeys high. It created 336 homes, including 79 affordable units at social or intermediate rents.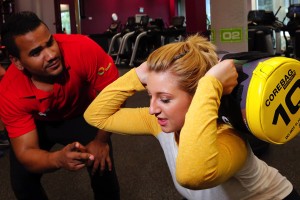 The Castle is a new Southwark Council leisure centre located next to St Mary's Churchyard. It includes a six lane, 25 metre swimming pool, a sports hall and a fully equipped gym and indoor cycle studio.
Chatelain House is a planned development from Fabrix. The plans include new housing and workspace.
Crossway Christian Centre is a two-storey development on Hampton Street which opened in 2017. It hosts the United Reform Church as well as providing facilities for other members of the community.
Elephant Road, Castle Square and Ash Avenue: The first phase of the new town centre development, Elephant One was completed on Elephant Road in 2016. It comprises 374 new homes for rent; 272 student studios; a Sainsbury's supermarket; a GymBox gym; a crèche and several restaurants. The development  also includes a new street, Ash Avenue, and Castle Square, a new public space and retail destination which is home to many of the traders formerly based in the shopping centre.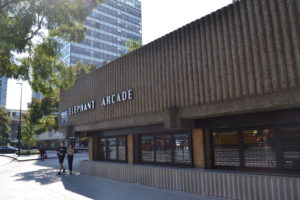 Elephant Arcade is a new shopping arcade at the foot of Perronet House (just opposite the Bakerloo line station). It was created by Southwark Council from a number of unused garages and is now operated by Meanwhile Space. It is home to several of the traders formerly based at the Elephant and Castle shopping centre.
Elephant Square is a major new public space. Transport for London has reconfigured the road layout at the former northern roundabout, turning it into a peninsula and creating a new public square.
Uncle (from the Realstar Group) at Newington Butts comprises 457 new homes. 278 of these have been marketed as Uncle apartments for private rent. At least 75 have been allocated to council tenants and 44 are being managed by Peabody as shared-ownership homes. The development also includes a café, gym, sky lounge and a permanent new home for the Southwark Playhouse which opened in January 2023.
The Ceramic Building is a 25 storey tower on Newington Causeway. It includes a 140-room hotel, retail space and 48 new flats including 16 affordable homes. The development has also created a new walking route along part of the Low Line, linking Newington Causeway to Tiverton Street and the Rockingham Estate.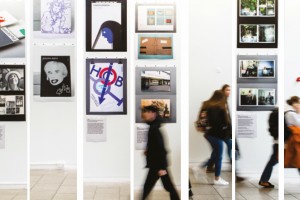 London College of Communication, UAL, is proud to be staying in the area and relocating to the new town centre development. Its new, cutting edge building will add to the college's rich heritage and will make it even more open and accessible to the local community.
London South Bank University is redeveloping its London Road building to provide refurbished and extended learning and teaching facilities. This will incorporate the Academy of Sport and will mean relocating the university library.
Manor Place is a mixed-use development from Notting Hill Genesis. Built on the site of a former council waste depot and public baths, it includes 270 new homes, more than 100 of which are for social or intermediate rents. The new homes on the site of the depot are complete and work is continuing at the old bath house.
One the Elephant is Lendlease's landmark 37 storey residential development. It includes 284 homes as well as cafes and retail space on the ground floor. Sales from the scheme helped to fund Southwark Council's new leisure centre, the Castle.
5-9 Rockingham Street is a proposed development from Alumno. The company plans to build accommodation for up to 270 students. The building will have an active ground floor (possibly including a cafe) and the scheme will open up a new section of the Low Line.
21 St Georges Road comprises a new 89-room hotel which will replace the old offices currently being used by BOLD Theatre on a temporary basis. The development also includes new office space; a cafe/restaurant and more public space at ground level.
The Salvation Army has plans to move its headquarters to Denmark Hill. Rockwell, the owners of its headquarters on Newington Causeway want to redevelop the site for hotel and office space and a new public square.
The Signal Building is a 22 storey residential development on Newington Causeway, completed in 2014. It includes 38 residential units and 366 sqm of commercial floorspace.
The Southwark Heritage Centre and Walworth Library is a stunning, new council facility created in two new Lendlease units on Walworth Road. Opened in 2021 it includes both a local library and a heritage centre for the whole borough. It houses a permanent exhibition, with pieces from the borough's heritage collection, as well an annual programme of temporary exhibitions, talks and activities.
Skipton House: planning permission has been approved for a mixed used development from London and Regional Properties that will see the existing building reconfigured and extended. Six additional storeys will be added (to provide extra office space and a new gym) and the ground floor will accommodate new retail and commercial premises.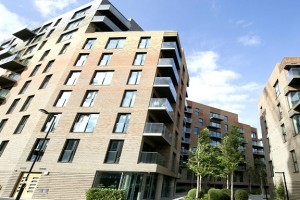 Trafalgar Place was Lendlease's first development in Elephant and Castle. Sited next to Elephant Park, it delivered 235 new, high quality homes, including 25 per cent affordable housing. Designed to sit naturally within its immediate surroundings, Trafalgar Place was awarded 'Best New Place to Live' and the 'Mayor's Planning Excellence Award' at the prestigious London Planning Awards.
Two Fifty One is a development built on the former site of Eileen House, Southwark Bridge Road. It consists of a 41 storey tower (residential and commercial) and an eight-storey building for retail and office use.
Walworth Square is a new public space (at the junction of Walworth Road and Wansey Street) that opened in 2018. Part of Lendlease's Elephant Park development, the square is also home to the new Southwark Memorial.
Walworth Town Hall was damaged by fire in 2013. Southwark Council is working with General Projects to restore the town hall buildings to bring them back into use, including co-working facilities and a new community space. The Wansey Street side of the restored town hall will open onto the new Walworth Square.
Meanwhile uses and community projects
Hotel Elephant is a not-for-profit company, established in 2009 to support the borough's artists and makers. It provides affordable workspace and runs a programme of education projects, exhibitions, events and film screenings. Find them on Spare Street – a row of converted railway arches named in honour of Walworth artist Austin Osman Spare.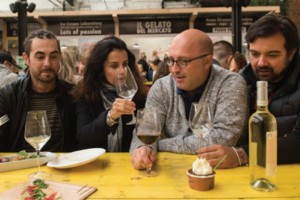 Mercato Metropolitano is an Italian market, supermarket and food and drink venue housed in a disused paper factory on Newington Causeway. Spanning over 4,000 sqm, the market brings together small producers, farmers and artisans from across London and Italy. The site also contains a cookery school, vegetable garden and in-house cinema. The venture has proved such a success that Mercato has opened a second, permanent branch, nearby at Elephant Park.
55 East is a new, permanent community and enterprise hub on East Street. Created by Hatch, one of the UK's leading community enterprise charities, this new venture includes a combined co-working and training space; a community café and a retail and event space for local designers and community groups.
BOLD theatre is a temporary theatre space occupying three storey's of a 1950s office block – scheduled for redevelopment – on St Georges Road. Since arriving in 2020, the theatre company, run by Sarah Davey-Hull, has staged a number of popular productions. It hopes to find another venue in the area when this meanwhile tenure comes to an end.
Drawing Room was a free, public art gallery dedicated to contemporary drawing. The gallery moved from Bermondsey to a disused building in Rodney Place in 2018 where it hosted exhibitions, talks and workshops. It is due to move again, in 2023, to a new, permanent home in London Square, Bermondsey.