Community grants of up to £5,000 now available

19 February 2018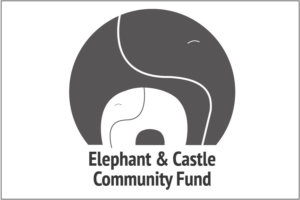 The 2018 Elephant and Castle Community Fund has gone live.
This is your opportunity to apply for grant funding to support an existing project or to get something new and exciting off the ground.
Since it was established by Lendlease and Southwark Council in 2012, the fund has awarded roughly £175,000 to around 40 community organisations and directly benefited thousands of local people. From film projects and school drama to skill-sharing and language classes, the wide range of initiatives supported so far reflects the amazing breadth of talent that exists in Elephant and Castle.
This year, grants of between £500 and £5,000 are available from a total fund of £50,000. The deadline for applications is midday, 10 April 2018.
Your project must be based in the Elephant and Castle regeneration area and should address one or more of the five themes below:
Further Education / Skills Building / Training and Entrepreneurship
Arts and Culture
Environment
Older Residents
Wellbeing
Got a question about the Town Centre development?

12 February 2018
If you want to know more about the proposed plans for a once in a lifetime opportunity to deliver essential regeneration for Elephant and Castle Town Centre, Delancey's project team will be on hand at the shopping centre to help.
The proposals offer significant benefits for a huge range of people living, working and learning at the Elephant. This new town centre will become a focal point and cornerstone of the wider £3bn regeneration underway in Elephant and Castle, whilst reinforcing the status of the area as a major cultural and education destination in central London.
The plans include more than 1,000 new homes on a site where none currently exist; new restaurants and leisure space; a live music venue and a new cutting-edge campus for London College of Communication.
As part of Delancey's engagement with the local community, from Tuesday 13 February, you'll be able to drop in to the Community Engagement Centre (unit 215 at the Elephant and Castle shopping centre) to meet the Delancey team.
So, if you live or work locally or if you're just interested in what's happening, stop by and say hello. And if you have a business in the shopping centre, this is a great opportunity to find out more about the help and assistance on offer to relocate.
Community Engagement Centre (Unit 215, E&C Shopping Centre). Opening times: Monday-Friday, 10am-4pm; Wednesday 11am-8pm
Maldonado Walk unveiled

12 February 2018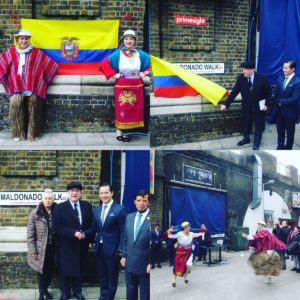 An Ecuadorian themed ceremony was held on Saturday 10 February to celebrate the naming of Maldonado Walk.
This small passage next to the newly built Crossway Church, just off Hampton Street, has been named in honour of Pedro Vicente Maldonado, the 18c Ecuadorian scientist who died in London in 1748. The ceremony brought together politicians, the local community and Ecuadorian dignitaries, who'd flown to London specifically for the occasion, to enjoy traditional music, dancing and food.
The new street name, originally proposed by Cllr Maria Linforth-Hall is, in part, recognition of the contribution that the local Latin American community have made to Elephant and Castle over the past 30 years. It's also part of the Walk Elephant initiative to make the Elephant an easier place to navigate and to get around on foot.
Maldonado Walk forms part of the emerging Low Line; a new walking route along the railway viaducts which link Blackfriars to Camberwell. It follows hot on the heels of Spare Street, which opened just around the corner in 2016, and houses local arts organisation, Hotel Elephant, in five refurbished railway arches.
Find out more about how we're making the Elephant a better place to walk
Delancey Statement on the Town Centre

7 February 2018
On 30 January, Southwark Council's planning committee voted to defer Delancey's application to redevelop the Elephant and Castle shopping centre as a new town centre for the area.
Delancey has listened to the concerns and issues raised by the local community, Ward Councillors and the council and made a revised offer.
Borough Triangle exhibition
6 February 2018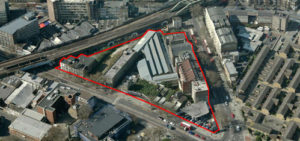 Peabody is holding two public exhibitions about the Borough Triangle site this week.
The housing association plans to build new homes, a range of retail and commercial spaces and new public space for local residents on this site between Borough Road and Newington Causeway (currently home to Mercato Metropolitano). The exhibition, to be held at the London School of Musical Theatre, is an opportunity for the community to find out more about the proposals. Peabody's project team will be on hand to talk through the plans, answer your questions and collect feedback.
The exhibition will be held at London School of Musical Theatre, 83 Borough Road, SE1 1DN on the following dates:
Wednesday 7 February: 6pm–8.30pm
Saturday 10 February: 10am–2pm
Elephant Park Masterplan exhibition
5 February 2018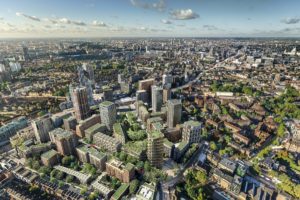 Lendlease is holding a public exhibition to show the outline designs for the fourth phase of Elephant Park which includes two development plots on Rodney Place (plots H11a and H11b).
The exhibition is open to anyone who's interested in finding out more about Elephant Park. It will be held at Balfour Street Housing Project, 67 Balfour Street London SE17 1PL on the following dates:
Thursday 8 February: 3pm – 8pm
Saturday 10 February: 11am – 3pm
The Posh Club returns to Elephant and Castle

5 February 2018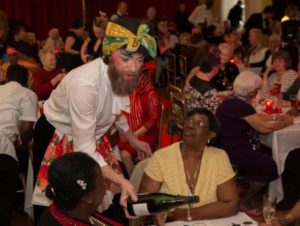 The Posh Club is a glamorous performance and social club for older residents of Elephant and Castle.
Each three-hour event is styled as a tongue-in-cheek 'posh' 1940's afternoon tea with three live show business turns, volunteer waiters in black tie, vintage crockery and an in-house pianist.
Supported by London College of Communication and Peabody, the club is a glamorous event for about 100 participants per week with the emphasises on dressing up, live performance, social
connectivity and intergenerational volunteering.
The first event, held at the shopping centre last year, was a great success; so now the club has returned for a ten-week run, starting today, at Walworth Methodist Church Hall (Clubland). Tickets are £5.
Town Centre planning decision deferred

31 January 2018
Last night (30 January) Southwark Council's planning committee voted to defer Delancey's application to redevelop the Elephant and Castle shopping centre as a new town centre for the area.
Cllr Mark Williams, Southwark's Cabinet Member for Regeneration and New Homes, said: "We welcome the planning committee's decision to defer. We remain committed to finding a solution for a new shopping centre and home for UAL's London College of Communication that works for everyone and look forward to the developer bringing forward substantive changes to their application."
Delancey issued a statement to say: "We welcome Southwark Council's decision to defer the decision of our planning application. Our proposals offer a once in a lifetime opportunity to deliver essential regeneration to a key London location, which will bring almost 1,000 new homes to a site where none currently exist, desperately needed new transport infrastructure with a new Northern Line entrance and ticket hall, and ensure London College of Communication, UAL's long term future in Elephant and Castle.
We recognise that concerns have been raised about our proposals and this extra time will give us the opportunity for these to be addressed. The issues are resolvable if all parties continue to engage in this positive and constructive manner. We will continue our work with Cathedrals and East Walworth Ward Councillors, Southwark Borough Council and other interested local parties to reach a mutually acceptable and positive conclusion."
Find out more about the proposals
Beyond 2001: New Horizons

29 January 2018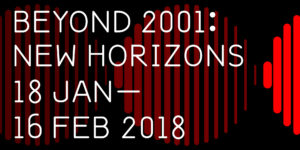 Famous for ground-breaking films such as Dr Strangelove and Full Metal Jacket, Stanley Kubrick provides the inspiration for the latest London College of Communication (LCC) exhibition.
Beyond 2001: New Horizons is a bold, colourful and interactive exhibition that celebrates the tenth anniversary of the College's acquisition of the Stanley Kubrick Archive. Rare and unique materials from the acclaimed director's film productions, including 2001: A Space Odyssey, are on show alongside work created by LCC's Screen School students in response.
The exhibition runs alongside a series of talks, workshops and seminars until 16 February.
Grants of up to £2,000 available for community projects

23 January 2018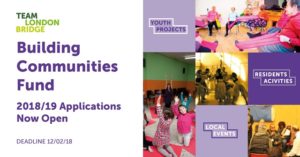 Applications are invited for community projects requiring £500-£2,000 grant funding.
The Building Communities Fund is delivered via the Team London Bridge BID levy. The grant consists of an annual pot dedicated to supporting local events, youth projects, residents' activities and general community programmes.
There are no set criteria in terms of beneficiaries' age groups, though the majority of participants must live in SE1, SE16 or SE17. Funded projects must also work in accordance with Team London Bridge's aim of supporting and promoting sustainable community places.
The deadline for submitting your application is midday on Monday 12 February.
The new issue of the Elephant Magazine is out now

22 January 2018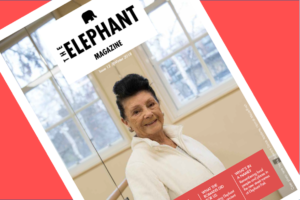 The new issue of the Elephant Magazine is out now.
In this issue:
Remembering local people and places in the street names at Elephant Park
Rene Hayes and the Superarts Dance Academy
The Elephant's Roman roots uncovered
Town Centre proposals

17 January 2017
Last night, Southwark Council's planning committee voted against a recommendation from officers to approve Delancey's planning application for the Elephant and Castle Town Centre development.
The detailed reasons behind the decision weren't formalised and the committee is scheduled to meet again on 30 January when it will formalise the grounds for the decision and vote again.
Read the council's statement
New shopping arcade proposed at Perronet House

15 January 2018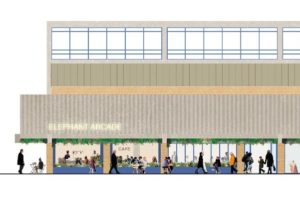 Unused garages beneath Perronet House could become a new shopping arcade if council plans go ahead.
The space beneath the council housing block is split into two garage areas, one of which is let to local residents. Southwark Council is proposing to convert 12 unused parking spaces in the other area (the closed, southern garage) into 11 retail units plus a community café with an entrance diagonally opposite the Bakerloo line station.
The proposal would provide convenience shops for people living and working in the area and affordable retail space for local independent traders.
Community Council: Tuesday 9 January

8 January 2018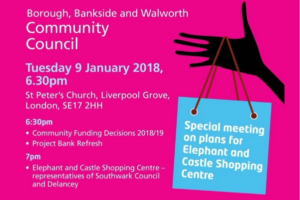 The next meeting of Borough, Bankside and Walworth Community Council will be a special meeting on the plans for Elephant and Castle Shopping Centre. It will be held at St Peter's Church, Liverpool Grove SE17 2HH.
Representatives from Southwark Council and Delancey will be present and there will be an opportunity to discuss the plans and ask questions.
The meeting takes place on Tuesday 9 January at 6.30pm.
Read archived news from last year (2017)