25 new council homes for Newington
30 July 2021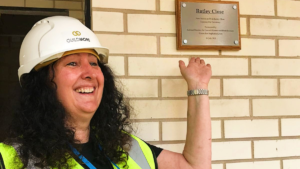 Southwark councillors and Guildmore building contractors celebrated a topping out ceremony for 25 new council homes in Newington, this week.
Topping out ceremonies are traditionally held when the last beam is placed on top of a structure during its construction.
The Rutley Close development replaces an old bungalow block and a disused car park podium to create 25 high-quality new council homes for Southwark residents, as well as a landscaped courtyard.
The works are expected to complete in spring 2022.
The Elephant Magazine: out now
19 July 2021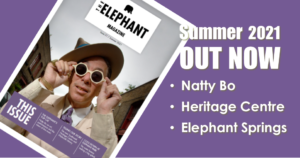 The Elephant Magazine is available throughout Elephant and Castle.
Pick up your copy in Castle Square, Elephant Arcade or Sayer Street.
In this issue:
Natty Bo on the return of live music
Explore the new Southwark Heritage Centre and Walworth Library
Escape the heat and cool down at Elephant Springs
Community Hub Summer Party
14 July 2021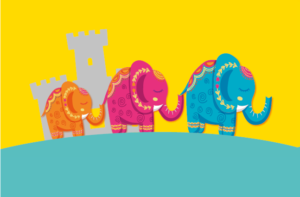 The Elephant and Castle Community Hub is throwing a free summer party, online, this weekend.
Join in the fun with a beach parade dress-up competition, summer themed quiz, Community Hub choir and decorative flower making.
There will even be a selection of classic beach-themed movies to watch, including Jaws.
The party is on Sunday 18 July from 7pm.
Find out more and book your place
£30k for Walworth Heritage Project
6 July 2021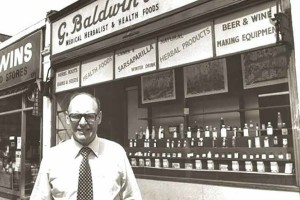 Historic England has awarded a £30k grant to the Walworth Society to kickstart the Walworth Stories project.  This two-year project will create a collection of written histories about Walworth's diverse communities.
Southwark Council has also contributed funding as part of the Walworth Heritage Action Zone (HAZ) initiative.
The material produced by the Walworth Stories project will be archived at the Southwark local history library and will be free to access online.
Look who's back…
23 June 2021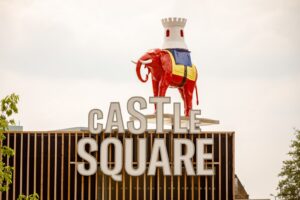 This Saturday, we celebrate the return of the elephant statue.
The elephant is taking up residence in our neighbourhood, once again, this time in Castle Square, having been restored and repainted.
On Saturday 26 June the Elephant and Castle Town Centre Team will host a welcome back party for the whole community, in Castle Square, to celebrate the statue's return.
It includes a full day of free, family-fun entertainment, and delicious food and drinks will be on sale from the local traders.
High Street Recovery Fund
15 June 2021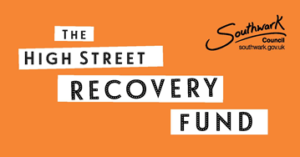 Do you have a great idea that will help our high streets and town centres thrive?
If so, you're invited to submit your suggestion to The High Street Recovery Fund.
High streets have taken a real hit during the lockdowns and closures over the past year. So now the council wants your inspirational ideas – brought to life through projects located in one of the borough's high streets or town centres – which will help shops and businesses to grow and thrive once again.
Up to £25k is available for those ideas chosen for funding.
Welcome to Elephant Springs
7 June 2021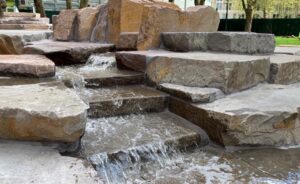 Elephant Springs is a new, natural play area in Elephant Park.
Comprising landscaped water features, this new addition to the park has opened just in time for the hot weather.
It includes cascades of water, rock channels and miniature, babbling streams. It has hand operated 'village' pumps and jets that you can chase and others that surprise you as you walk by. And there are even several sand pits – ideal for young children with their buckets and spades.
Southwark Heritage Centre and Walworth Library
20 May 2021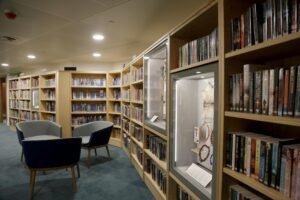 The new Southwark Heritage Centre and Walworth Library officially launched this week.
Delivered by the council in partnership with Lendlease, as part of the Elephant Park development, this brand new facility combines a heritage centre for the whole borough with a local library for Walworth.
The centre has a permanent Story of Southwark exhibition and will also host temporary shows throughout the year. It also features art and artefacts from the borough's heritage collection, including items previously on show at the Cuming Museum.
So drop-in and take a look; borrow one of 20,000 books, check-out the exhibits or simply make use of the free wifi and study-space.
Elephant Says Hi: Support Local
17 May 2021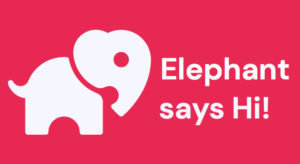 As lockdown restrictions start to relax, community initiative, Elephant Says Hi is encouraging people to support their local organisations.
The team want creative minds to design a poster for Elephant and Castle that will celebrate the reopening. The poster, to display in windows, will call on local people to support their neighbourhood venues, shops and other organisations.
Entries should be submitted by 10 June 2021 and the winning design will be printed and distributed throughout Elephant and Castle and Walworth as well as on social media.
Putting the Elephant's creativity on the map
10 May 2021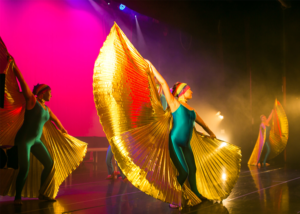 Elephant and Castle's creative venues are celebrated in a new, interactive map which has been published ahead of the relaxation of COVID-19 restrictions on 17 May.
Visitors and locals can explore some of the neighbourhood's world-leading creative and cultural venues, from Corsica Studios to Siobhan Davies Dance, on the new map published as part of London College of Communication's Creative Elephant project.
Creative Elephant was initially developed by the college in 2019 to showcase local creativity as part of its degree shows. Last year, it was developed further (partly in response to the pandemic) to serve as a year-round guide which will help to support local arts and culture venues.
Join the Tannery Arts/Drawing Room board
26 April 2021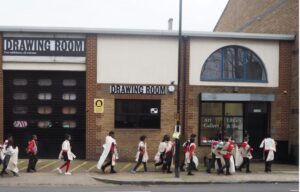 Tannery Arts/Drawing Room, currently based in Rodney Place, Elephant and Castle, is looking for new board members.
The non-profit studio provider and gallery, wants to recruit people who are passionate about the visual arts and who believe the arts can help maintain and build communities.
This is an opportunity to play a key role at this dynamic organisation as it makes the move to its new, permanent home in Bermondsey in 2022.
Training will be provided for those with no prior board experience.
Southwark Playhouse Young Company
22 April 2021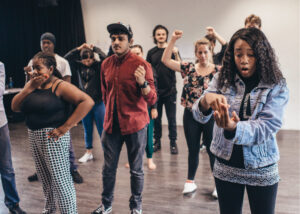 Southwark Playhouse Young Company is running a community theatre group for young people aged 14-18.
Spaces are available from 8 May for in-person workshops. These socially-distanced sessions will take place at Southwark Playhouse on Newington Causeway.
If you're interested in drama or the theatre and are itching to get back out and meet new people, then this could be for you.
It's free to take part and there are no auditions to join.
Community grants of up to £10k now available
8 April 2021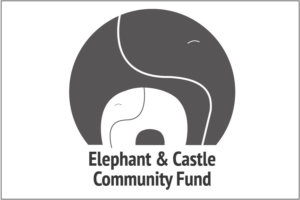 The 2021 Elephant and Castle Community Fund has gone live.
This is your opportunity to apply for grant funding to support an existing project or to get something new and exciting off the ground.
Since it was established by Lendlease and Southwark Council in 2012, the fund has awarded roughly £300k to local community organisations and directly benefited thousands of local people. Last year, five local organisations received around £10k each, including Blackfriars Settlement and InSpire at St Peters.
Your project must benefit people in the Elephant and Castle regeneration area and should address one or more of the five themes below:
Further Education / Skills Building / Training and Entrepreneurship
Arts and Culture
Environment
Young People
Wellbeing
.
The grants on offer are between £500 and £10k and the deadline for applications is midday Monday 24 May 2021.
200 new food-growing plots for Southwark
6 April 2021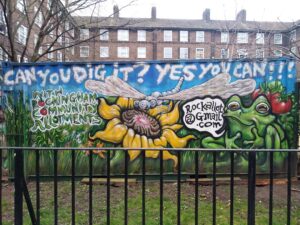 Southwark Council is giving green-fingered residents the chance to create new community gardening and food growing spaces with the launch of its Allotment Expansion Guarantee.
This new initiative will empower residents to create their own community gardening spaces on council land much like the Rockallot project on Elephant and Castle's Rockingham estate.
In total, up to 200 new plots are planned across the borough.
Each new community growing site will be run by a local group, which will be responsible for maintaining the space, allocating plots and supporting individual plot holders.
Residents get the keys to new council homes

21 March 2020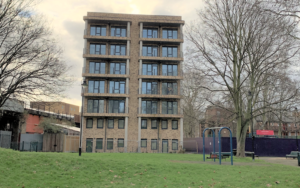 William Cuffay House, Southwark Council's new development in Walworth, was completed at the end of 2020 and has now opened its doors to residents.
The seven-storey development of 17 spacious flats, which overlook the greenery of Pelier Park and offer panoramic views of the London skyline, are available at council rent levels to local people in housing need.
The development is named after William Cuffay, the son of a former slave who was a leading figure in the Kennington Chartist movement in the 1800s.
Have your say on Liverpool Grove

17 March 2020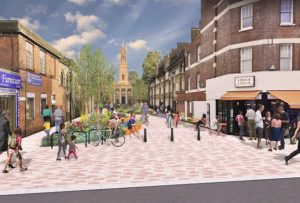 Southwark Council wants your feedback on plans to improve Liverpool Grove, just off Walworth Road.
Following previous consultation, the plans to improve the street (which are part of the council's Low Emission Neighbourhood programme) can now be viewed online.
The plans aim to make the street a greener, safer and more pleasant place to spend time. This includes measures to improve the street for walkers and cyclists, widen the pavements and improve greening and planting. The proposals will also create a better setting for the Grade 1 Listed St Peter's Church.
The council wants your thoughts on the proposals before 18 April 2021.
Find out more and have your say
The Elephant Magazine: out now
14 March 2021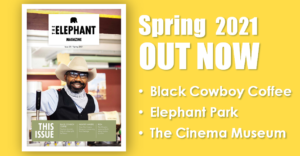 The Elephant Magazine is available throughout Elephant and Castle.
Pick up your copy in Castle Square, Elephant Arcade or Sayer Street.
In this issue:
The Elephant's king of coffee spills the beans
The Cinema Museum – preserving local heritage
Elephant Park expands
Government safeguards Bakerloo route
4 March 2021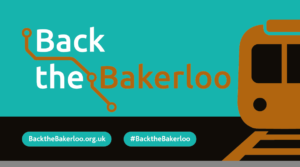 The Secretary of State for Transport, Grant Shapps, has issued directions to safeguard the route of the Bakerloo line extension from Elephant and Castle to Lewisham via Old Kent Road.
This protects the land required for the tunnels, alongside new stations on Old Kent Road, at New Cross Gate and Lewisham, as well as key operational infrastructure and construction sites.
Kieron Williams, Leader of Southwark Council, Heidi Alexander, Deputy Mayor for Transport, and Damien Egan, Mayor of Lewisham, have welcomed the news in a joint statement.
TfL upgrades CS7 cycle route
18 February 2021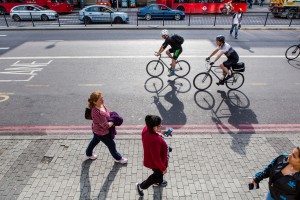 TfL is upgrading CS7, one of London's busiest cycle routes.
The route will be improved between Oval and Elephant and Castle to make it easier and safer for people to travel by bike. The changes include new cycle 'wands' to segregate the existing cycle lanes and wider bus lanes (to help cyclists).
Since the regeneration of Elephant and Castle began, the neighbourhood has started to become a much easier place to get around on foot or by bike and this trend is set to continue with the development of the new town centre.
Construction work on this portion of CS7 will commence in March and TfL would like your hear your thoughts on the upgrade.
Find out more and have your say
Elephant Park Sessions
1 February 2021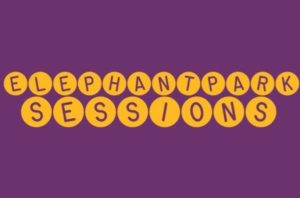 Elephant Park Sessions is Elephant Park's free, virtual community festival.
Join the team for a jam-packed programme showcasing the best of Elephant and Castle's thriving, creative community.
Hosted by local partners such as Beza Food, Koi Ramen Bar and Art In The Park, these sessions promise to be creative, fun-filled activities that you can participate in from the comfort of your own home. From mindfulness to fitness to cookery classes, there's something for everyone.
Some events take place live (via Zoom) and all sessions are recorded and made available on the Elephant Park Sessions website.
LCC Postgraduate Showcase
28 January 2021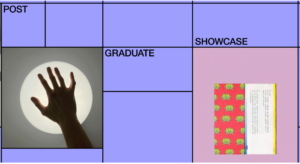 The London College of Communication (LCC) Postgraduate Showcase launches today, celebrating some of the most extraordinary new work across design, media and screen.
Based in the heart of Elephant and Castle, LCC has a diverse, world-leading community of teaching, research and industry partnerships. The university supports the development of creative disciplines in ways that make a positive impact on the world beyond academia and the annual showcase is an opportunity to celebrate its incredible breadth of emerging new talent.
This year's showcase is entirely online and will be accompanied by an exciting programme of digital events between 28 January and 3 February 2021.
Consultation on the final phase of Elephant Park
22 January 2021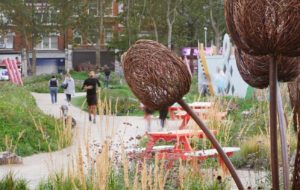 Lendlease has begun the second round of public consultation on the final phase of development at Elephant Park (Plot H1).
Last October, Lendlease introduced some early plans for the plot, which is located on the corner of Walworth Road and Elephant Road.
Since then, the team has been working to respond to the initial feedback and is now ready to share its updated proposals.
The consultation is open until 7 February.
Find out more and have your say
£325k boost for local community projects
19 January 2021
At Cabinet today, Southwark Council agreed a further £325k in funding for community projects in the Elephant and Castle regeneration area.
This includes £150k to open up new community space at the Walworth Living Room (Surrey Square) and £175k to improve Walworth Garden near Manor Place.
The money comes from the Local Community Infrastructure Levy (CIL), a levy raised on developers with local building projects. CIL is just one of the ways in which regeneration and redevelopment can benefit the community, directly, with a financial contribution towards improving local infrastructure.
Last year, the council invited the public to suggest projects which could be funded with the £6m of Local CIL available throughout the borough. Over 1,000 ideas were suggested and today's decision means that the Walworth Living Room and Walworth Garden will join more than 65 other projects chosen by the council to receive CIL money.
Community Hub Online
15 January 2021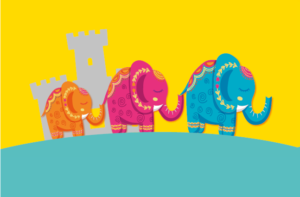 Elephant and Castle's Community Hub (originally based in the shopping centre) is continuing to provide free, online activities for local residents throughout lockdown.
The Hub, which went digital last year, is running a full programme of craft, cookery, dance, exercise and musical activities – for all ages – via its website and Zoom.
On Sunday 31 January, the Hub is hosting its very own White Dress Party . The white dress themed evening will include a quiz and singalong choir amongst other group activities, and there will be prizes for the best white outfit.
So if you want to join the party, get involved in something creative, or if you just need a bit of virtual company while stuck at home: visit the website to see what's on offer.
Elephant statue removed ahead of relocation
5 January 2021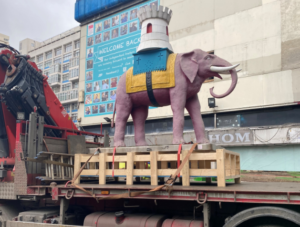 The famous elephant statue, which has stood outside the Elephant and Castle shopping centre for decades, has been removed from its plinth ahead of relocation to Castle Square.
The shopping centre site is due to be redeveloped as part of Elephant and Castle's new town centre. Work has already begun on the initial stages of demolition and the statue will be repainted and restored before taking up residence, just around the corner, in Castle Square.
Castle Square (alongside Elephant Arcade and Elephant Park ) is now home to many of the businesses which formerly traded in the shopping centre. The statue will remain here while the new town centre is being built.
Find out more about Castle Square
.
Read archived news from last year (2020)