Bayroot has received glowing reviews on Trip Advisor and has loyal customers who come from far and wide. Yet back  in 2014, when Yasser first came up with the idea of converting an  empty Walworth internet café into  a Lebanese restaurant, people tried to put him off.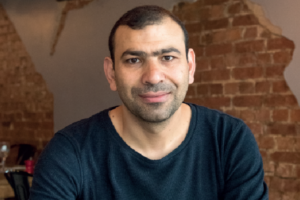 "I'd never run a restaurant before and some people weren't exactly encouraging" he recalls. "They tried to scare me off. They asked me what I thought I was doing – investing my money in this part of town? But I've proved them wrong."
"The first year was tough" he  admits "but we now have a loyal following and there's a lovely community around here and all  the local businesses help and  support one another."
Yasser, an established businessman who also owns Adams Travel on Old Kent Road, has lived in the area for 20 years. Although he's not the restaurant's chef, Yasser was inspired to start Bayroot after teaching himself to cook by watching YouTube videos. "I wasn't much good at first but I gradually got better and better" he explains. "And, as I travel a lot, I love discovering new ingredients. So when I decided to open Bayroot, I knew I wanted it to be a restaurant with a twist; one where you can try exotic, fresh ingredients that you don't usually find over here."
Customers can take their pick from an extensive menu which includes hot and cold mezze for sharing as well as marinated grilled meat, seafood and vegetable dishes along with vegetable stews, wraps, salads and fresh fruit platters. Everything at Bayroot is prepared daily using ingredients from New Covent Garden Market as well as special herbs and spices imported directly from Lebanon.
"People particularly love our sharing platters and the Bayroot fries are a big hit" says Yasser. "We sprinkle the fries with Za'atar – a spice mix which includes wild thyme, sesame seed and sumac. We also make all our marinades and sauces ourselves."
Alongside head chef, Charlie and his assistant, Yusuf, Yasser employs two pasty chefs who make a variety of savoury vegetarian parcels and baklava for dessert. The only thing that isn't made on the premises is the flatbread, which comes from a specialist Lebanese bakery in North London.
Yasser even designed the restaurant's interior himself and did much of the building work too. With the help of a restauranteur friend from Soho, he made the tables using reclaimed wood and exposed parts of the restaurant's brickwork to give Bayroot an industrial feel. "The brickwork by the door is actually a map of Lebanon" Yasser points out.
The pair came up with the name, Bayroot, one evening when they were sitting outside, taking a break from their labours. "It's a unique  name and people really like it" says Yasser. "It hits two birds with one stone as Beirut is the capital of Lebanon but the bay tree is very popular there, too".
Yassar puts the success of  Bayroot down to two things; quality and service.
"I give my customer what I'd like to eat and I have a lovely team of waitresses who make sure that everyone's looked after. We get a wonderful mixture of people here, from local residents, office workers and students through to tourists.  We also get a lot of take-away orders. We recently did a delivery for the Burberry HQ, across the river in Westminster" beams Yasser.
"We've also hosted lunch and dinner parties for staff from local schools and hospitals. But what brings me most joy is simply seeing the customers sitting down to a meal and enjoying our cooking, no matter who they are."
Read more about the people who live and work in Elephant and Castle
A version of this article was first published in the Elephant Magazine, Winter 2018