Back in 2005 when Anthony Ho told people he was going to open a large, high class Chinese restaurant in Elephant and Castle, the response he received was not overly enthusiastic.
Anthony already lived and worked locally. He ran J. Brothers Ltd, a successful wholesale catering company on the Newington estate, which he set up straight after leaving university in 1986, but when he shared his plans for a new upmarket Chinese restaurant in the area people weren't convinced.
"I had lots of discouragement from local friends and business people who told me it would be impossible to make a living. They predicted that we would fail but we didn't" declares Anthony as he gestures around the bustling restaurant he runs with his business partner Amy.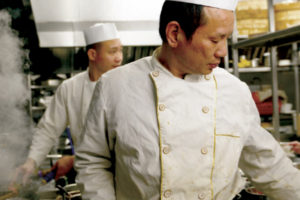 "When we opened, without publicity or advertising, we got lots of customers because we were offering something different to the existing cafes and takeaways".
It wasn't long before Jay Rayner, the Observer Magazine's restaurant critic, heard about "the massive Chinese place just off the roundabout." Soon he was sampling the extensive menu – tucking into dishes such as "sweet and salty poularde clams, stir fried with chilli" which he declared "a relative steal at £8.50 for a generous plate of bright and fresh seafood" – and lauding the Dragon Castle as a "genuine diamond in the rough".
"It has helped a bit as people do trust him" Anthony says of Rayner's review.
Time Out has also visited. "For south Londoners looking for a credible alternative to Chinatown, Dragon Castle is just the ticket" they reckon.
One thing that sets Dragon Castle apart, of course, is the sheer size of it.
"In Chinatown someone is usually crowded next to you and you can't move but here we have lots of space" says Anthony, pointing out the high ceilings, decorated with giant gold lights that he tells me were imported specially from China along with a massive hand-carved dragon light that takes pride of place on a stage area at the end of the restaurant.
400 people can sit down to eat at the same time, plus there's also a function room upstairs, making Dragon Castle a popular destination for wedding receptions, business events and private parties.
Not surprisingly, with over a hundred dishes to choose from, the kitchens are large too; taking up a third of the 9,000 square foot ground floor. At times as many as 22 people can be working in there at once.
While the restaurant is popular all through the week, it's Sunday daytime when customers come for Dim Sum that Dragon Castle is at its busiest.
"If you don't book, you don't get a seat" warns Anthony.
Read more about the people who live and work in Elephant and Castle
A version of this article was first published in the Elephant Magazine, Winter 2014