"It's rare to find an artist who doesn't draw" says Mary Doyle, Co-director of Drawing Room, which opened on Rodney Place last year.
It's a statement ably illustrated by the impressive list of artists whose work has been already been exhibited at the not-for-profit gallery. The roll-call includes artists living and dead, ranging from Pablo Picasso and Lucien Freud to Paula Rego and Cornelia Parker.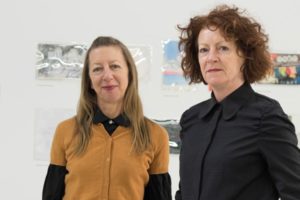 Mary, who has worked in the visual arts for more than 25 years, came up with the idea for Drawing Room with two friends; curator and writer, Kate Macfarlane, and Katharine Stout, Director of Southend's Focal Point Gallery.
"One day, in late 1999, we were chatting about how important drawing is to artists and yet, with the exception of the Drawing Center in New York, there wasn't anywhere that focused on it" she explains. "We wanted to explore how drawing is used in so many ways today."
"We started by producing a book and an exhibition called Drawing on Space that featured 13 artists of different generations, from around the world, and it grew from there."
Drawing Room was originally based in a warehouse space in Hackney and moved to larger premises at Rich Industrial Estate in Bermondsey in 2011, but the redevelopment of the site meant they needed to find a new home.
"Southwark Council helped us to find this new location and it's perfect" enthuses Kate.
"Elephant and Castle is such a creative community. There's Southwark Playhouse, London College of Communication and South Bank University, all close-by, and it's wonderful to be a part of that."
It's rare to find an artist who doesn't draw
"We are open six days a week and entry is free. People love that they can just walk in off the street and see drawings that otherwise might only be seen in a museum" she adds.
Drawing Room took over the former industrial space on Rodney Place in April last year and quickly set about converting it into an exhibition space. "It used to be a windscreen garage and had roller shutters in the front, so we put up walls and also created some artists studios upstairs. Luckily, as they were replacing windscreens rather than repairing cars, the floor wasn't too bad" recalls Mary.
Alongside the gallery space, Drawing Room also has a contemporary drawing reference library, which is regularly used by students, artists and writers and includes a "Drop-in and Draw" area where anyone can have a go.
"We get local children, who maybe don't have space to draw at home, who come in after school and at weekends" explains Mary. "We're also starting an after-school drawing club" she adds.
Every other year, the gallery puts on a Drawing Biennial where they invite well-known and up-and-coming artists to create a unique work on A4 sheets of paper. The works are exhibited and then auctioned to raise money for their programme of free exhibitions and learning activities.
"We held our first one 17 years ago and it's just grown and grown. Our 2019 Drawing Biennial featured 223 artists from all around the world and it's a great endorsement of what we're doing here" says Mary.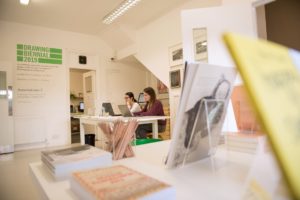 Encouraging today's artists is a big part of Drawing Room's remit. Their recent exhibition, Close: Drawn Portraits, featured historical portraits by household names – such as Hockney and Picasso – displayed next to more recent work and included portraits by Clifton Wright from Peckham-based Intoart. Fittingly, one of Wright's pieces came to be hung next to an abstracted head by Picasso, one of his major inspirations.
The exhibition also featured drawings of Elephant and Castle's Knit for Peace group, which takes place at the nearby Peabody Estate. London multi-media artist, Jessica Voorsanger made portraits of the knitters alongside portraits of their favourite artists, including Van Gogh, Constable and Toulouse-Lautrec.
Drawing Room's latest exhibition is called Modern Nature and includes historical botanic drawings, the notebooks of film director Derek Jarman (featuring his famous garden in Dungeness) and drawings by contemporary artists that explore our relationship with plants. "A large-scale exuberant, pastel wall drawing will pull viewers into the space and the exhibition will celebrate the world of plants and remind visitors of the importance of caring for nature. I can't wait." says Kate.
Read more about the people who live and work in Elephant and Castle
A version of this article was first published in the Elephant Magazine, Spring 2019