Perhaps not surprisingly, when football enthusiast, Tim McTigue was choosing between potential locations for his football-themed bar he created a score-sheet to help him decide.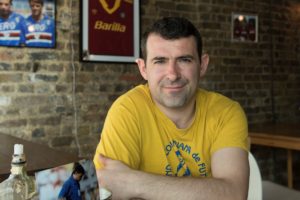 "This place came highest on all counts" says Tim, gesturing around his new Camberwell Road bar. "It's a great space, on a popular road and it's right by Burgess Park – so perfect for popping in after a kick around."
Tim opened Golazio just in time for the World Cup last summer and his winning formula of Italian craft beer, freshly made pizza – sold by the slice – and 90s Italian football matches playing on a big screen has already won fans from across the capital, and internationally too.
"Italian 90s football has a bit of a cult following so we get people from all over the place. Not just from London but from across the UK and Ireland and from as far afield as Melbourne and New Jersey" Tim explains. Despite being less than a year old, Golazio has already caught the attention of various visitor guides and TV shows.
"We're already in a Polish guide book; we've been on Dutch and Chinese TV and an American TV channel, Eleven Sports, did a great piece on us."
Tim came up with the idea for the bar after a trip to Italy with a friend back in 2015. After 15 years working as an Operations Manager for Tesco he was looking to do something different.
"We were in this bar where they had a few bits of 90s football memorabilia and I just thought it would be so cool to have a bar in London themed around 90s football. When I was growing up, we didn't have Sky Sports, so for me and my friends (as for many other people at the time) watching C4's Football Italia was a really big thing."
Tim has lived around south east London for a long time and he wanted to open his bar somewhere in the area. After finding the perfect site in a former Walworth restaurant, he set about converting it with the help of family and friends.
When I was growing up, Football Italia was a really big thing
"It was pretty dilapidated" he recalls. "Me and my brother, Joe, stripped back the walls to the brick and ripped up the floor. It was dirty and dusty and we ended up taking about ten huge skips of stuff out of here."
A friend, who owns a building company, helped to build the bar and Tim got experts in for the plumbing and electrics. They set up a big screen, lined the walls with memorabilia, papered the ceiling with old copies of La Gazetta (the Italian football paper) and installed a large twin-deck pizza oven.
Golazio offers eight different kinds of pizza including gluten free and vegan options. "I decided to do pizza by the slice after seeing it in New York" says Tim. "Krasi, our pizza chef, has worked with the best Neapolitan pizza makers. Getting the pizza just right was really important to us and I'm really pleased that we've got local customers who aren't into football but just like to come here for the food."
Being part of the local community is important to Tim and Golazio who recently hosted a couple of daytime children's shows for the nearby Blue Elephant Theatre. "They had a temporary problem with their building, so it was great to be able help out. They might have been a bit hazy on their 90s football but the kids loved it here" he smiles.
Read more about the people who live and work in Elephant and Castle
A version of this article was first published in the Elephant Magazine, Spring 2019