The figure 8,020 makes John White pause for a moment then shake his head in disbelief.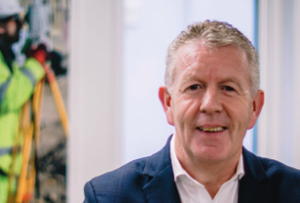 Standing before the brass plaque – unveiled by the Mayor of London, Sadiq Khan to commemorate the opening of the Southwark Construction Skills Centre in 2016 – John says "When we started, we were quoted as saying we'll train thousands of people. I remember thinking 'that's going to be difficult.' But now, three years on, we've actually trained more than 8,000. I didn't realise we'd be so successful."
It's a cold winter morning at the Skills Centre, based at Lendlease's Elephant Park development. To the left of the entrance stands the training yard, where a group of young, unemployed locals are being taught the art of scaffolding. It's just one of the skills taught at the centre, which focuses on helping local Southwark residents (and those from further afield) to undertake apprenticeships, pre-employment courses, short-term construction qualifications and National Vocational Qualifications (NVQs).
Despite passing the 8,000 mark, John isn't satisfied. He believes the centre can do better still. Just over half of those who attend their initial screening events go on to get a job or an apprenticeship. "This still isn't good enough" he says, "but it's better than a lot of other providers. There's lots more work to do. For me, it's about the ones that don't achieve. The ones that don't get jobs. How do we re-engage them?"
Helping people get into work isn't the only way in which the centre helps the local community.
What else can we do to help locally?
"Lots of people say they're community based, but you wonder what they actually do?" says John. "We have apprenticeships, we have this and that but we ask 'what else can we do to help, locally?'"
One example is a project on nearby King James Street, where apprentices have been working on a community garden. The Diversity Garden is part of the award-winning affordable housing scheme, Muro Court, and is tended by residents with help from the Skills Centre apprentices and Bankside Open Spaces Trust (BOST).
John, who was awarded an MBE in the New Year Honours list, believes that projects like this can give something back to the community during the disruption caused by regeneration. But they also provide a good training opportunity.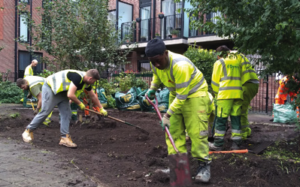 "It's a good way to address how our trainees conduct themselves" he says. "When you're working in a place like the Diversity Garden you need to understand that people are living all around you. You need to be quiet. You're not going to come down there with your music blaring. It's about respect and education. It sounds obvious but these are important things to remember, they make you employable."
The Skills Centre will move from its current base at Elephant Park later this year. It's due to relocate to Canada Water (another major regeneration area). But the exact location isn't critical for John. It's what they do when they get there that counts. "No matter when or where we move, I want 2020 to be the year we really up our game" says John, before returning to one of the centre's bright orange porta-cabins to address a group of new arrivals.
www.southwarkconstructionskillscentre.com
Read more about the people who live and work in Elephant and Castle
A version of this article was first published in the Elephant Magazine, Winter 2020