At brightly coloured tables, in the Crossway Christian Centre hall, dozens of people are chatting over a three-course meal cooked by a team of volunteers from community charity, Be Enriched.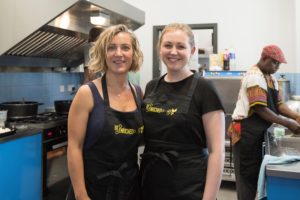 Everyone has already enjoyed a Mexican-style vegetable soup. Now they're tucking into vegetable curry with fragrant rice, cauliflower and celeriac salad.
In the kitchen next door, the volunteer chefs are putting the finishing touches to today's dessert of homemade lemon meringue pies with a selection of stewed fruits. There's an audible "mmm" around the room as the puddings are brought in.
"Food is such a great way to bring people together" explains Lily Walpole from Be Enriched, which also runs community canteens in Battersea and Tooting.
The charity launched the Castle Canteen in 2016 and everyone, including students, can enjoy a delicious hot meal for a suggested donation of just £1. "It's for anyone who needs a nice nourishing meal and a chat" says Lily. "Maybe they're not able to cook for themselves or perhaps they feel a bit isolated. Whatever the reason, people come together from all backgrounds and enjoy a delicious lunch; all cooked with food that would otherwise have gone to waste."
Food is such a great way to bring people together
The fruit and veg for the Castle Canteen come from Ted's Veg, a family farm in Lincolnshire which sells produce at Borough Market. They put aside any non-saleable but edible produce for charities to take. Every Monday morning, the Be Enriched volunteers arrive to see what's available.
"We never know what we'll get. It's always different" says Lily. "We bring it all back here and then lay it out on the tables so that our chefs can work out a menu for the day. Once that's decided, everyone gets to work and prepares the food.
They also have a collecting box at Sainsbury's on Walworth Road. "Again, we never know what we'll find until we visit but people often give biscuits, so we'll serve those with a cup of tea when people first arrive."
The charity uses the money from donations to buy any basics they need such as flour, rice and eggs. The meals are all vegetarian although they do cook some special Christmas lunches during December, usually with turkey provided by a local butcher.
"The project's been running for a while, so lots of people have already got to know each other. But there are always a few new faces" explains Lily. Mark is here for the first time with a friend after seeing the Castle Canteen mentioned on a local website. He particularly likes the idea of eating food that would otherwise go to waste. For single mother of two, Bridie, it's a great way to give her teenage daughters a good, cheap, healthy meal during the school holidays.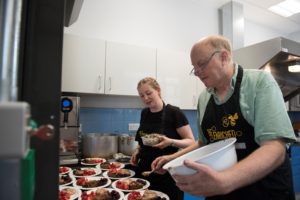 Martin, a retired musician, is a regular visitor and enjoys chatting to people he might otherwise never have met. Maria stresses what a tremendous help it is for people on benefits to have access to good healthy food. She says that when her benefits were stopped recently, Be Enriched provided a lifeline. Volunteers often sign up via the Be Enriched website or from Team London (Mayor of London, Sadiq Khan's volunteering programme). Companies also send groups of volunteers on charity days.
"We have about half a dozen volunteers every week and we're always looking for more" says Lily. The current lead chef is Ruth Weldon who has recently been cooking on a retreat in Ibiza. "It's a great project and it's lovely to do something that's so entrenched in the community" she says. Peter Brazier, who has been volunteering for about six months, is in charge of desserts. "I'm retired and was looking online for volunteering opportunities. This is perfect, as I love cooking and puddings are a passion. I recently made a Bakewell tart that was very popular and we did a cream tea the other day with scones and strawberries." In keeping with the ethos of the project, as the meal comes to end, any leftovers are shared.
"People bring their own tupperware or we have some containers they can take away. Nothing is ever wasted" says Lily.
Read more about the people who live and work in Elephant and Castle
A version of this article was first published in the Elephant Magazine, Autumn 2019