These news stories are archived from 2017: see all the latest news here
Restoring Walworth Town Hall

11 December 2017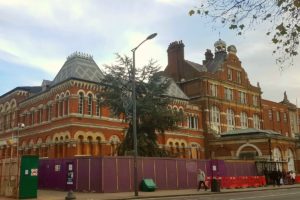 Southwark Council has put out a call for new proposals to restore Walworth Town Hall.
In 2013, a fire badly damaged the town hall and put the library, next door, out of action. The library is already back in use as a temporary home for The Art Academy and Cool Tan Arts. Now the council is seeking an organisation to help restore the Town Hall complex of buildings and bring them back into use for the benefit of the whole community, on a permanent basis.
The council wants to find an organisation that will help to restore the buildings – primarily for arts and culture purposes – and help to ensure they remain open to the public. A new Walworth Town Hall website has been set-up with all the details.
Walworth awarded Heritage Action Zone status

6 December 2017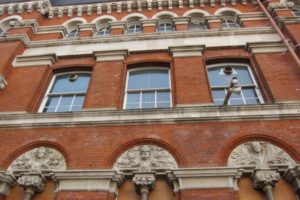 Walworth is the first central London neighbourhood to be awarded Heritage Action Zone status.
The purpose of the five-year, Heritage Action Zone (HAZ) scheme, announced this month, is to boost the local economy in Walworth by using the historic environment as a catalyst.
Southwark Council and Historic England will work with local partners to deliver and implement a programme of support tailored to the economic, social and environmental needs of the area. The scheme will help to maintain and restore Walworth's historic character as well as boosting economic activity and creating jobs. The HAZ is a welcome addition to the £3bn regeneration programme already underway in Elephant and Castle, and a detailed delivery plan is now being drawn-up which will go into action from spring 2018 onwards.
Siobhan Davies Dance: support future artists

4 December 2017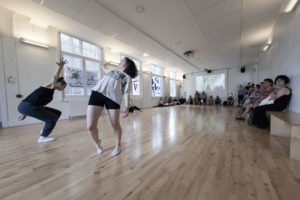 Help Siobhan Davies Dance support young people aged 14-24 to explore their creativity and grow as individuals through dance, choreography and other artistic disciplines.
Siobhan Davies Dance has been at the centre of Elephant and Castle's arts scene for more than a decade; working with children and young people as well as established artists. Now the charity has launched a crowdfunding campaign to help raise vital funds for its youth programme. Siobhan Davies Dance wants your help to support the artists of the future and provide a platform for young voices to be heard. The money raised will help to fund courses, workshops and one-to-one mentoring to empower and nurture the next generation of dance artists and choreographers.
Countdown to Christmas in Elephant and Castle
27 November 2017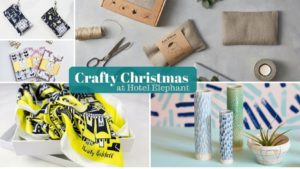 This weekend (Friday 1 December) marks the start of the festive season in Elephant and Castle.
It includes some fantastic opportunities to get started on your Christmas shopping with unique, handcrafted gifts made by local artists from Hotel Elephant and Pullens Yards as well as a Christmas Extravaganza at the shopping centre.
Hotel Elephant, a not for profit workspace for arts and creative enterprise, will be offering a wide range of crafty gifts, including ceramics, knitwear and stationary at their inaugural Christmas market on Spare Street. While, just a stone's throw away, Pullens Yards will be opening up the studios of more than 50 local artists. So drop-in over the course of the weekend to buy pottery, crafts and jewellery or just potter about and soak-up the festive atmosphere.
Meanwhile, over at the shopping centre, two weekends of festive events and family activities get underway on Saturday with arts and crafts workshops for children including cookie decorating; balloon modelling; face-painting and glitter tattoos.
Find out more about Hotel Elephant's Christmas Market
Find out more about Pullens Yards Open Studios
Find out more about the shopping centre's Christmas Extravaganza
Time Out Loves Christmas Movies: 23 Nov – 16 Dec

20 November 2017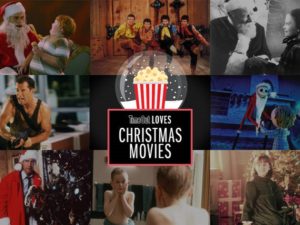 Time Out has teamed up with Elephant and Castle's Lost Rivers venue, transforming it into a tinsel-strewn, snow-covered extravaganza where you can settle down and watch a veritable feast of Christmas movie magic.
Screenings include Miracle on 34th Street (both the 1947 and 1994 versions) Home Alone, Bad Santa, Die Hard, The Nightmare Before Christmas and The Santa Clause. There's also a special preview screening of The Muppet Christmas Carol.
Tuck into tasty food and drink while you watch, and hang around after the screening for a party packed with music and performers.
The Changing Face of Elephant and Castle: LSBU exhibition

17 November 2017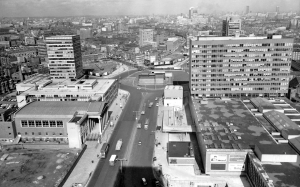 Delve into the archives and discover rarely seen artefacts documenting 125 years of Elephant and Castle's history at a new exhibition at London South Bank University's (LSBU) Borough Road Gallery.
The Changing Face of Elephant and Castle is an exhibition jointly organised by the Borough Road Gallery, LSBU Archives and Southwark Local History & Archives. The exhibition ties in with the national launch of the Explore Your Archive campaign, which aims to bring communities together to share amazing stories from the past.
Coinciding with the University's 125th anniversary, visitors will see artwork by famous British painter and former LSBU teacher David Bomberg, as well as art owned by Southwark Council which is rarely on display. The exhibition runs until Saturday 26 November.
Free creative design for shopping centre traders
14 November 2017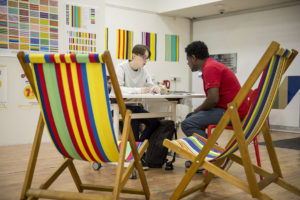 Businesses in the shopping centre have received free design advice and support from London College of Communication graduate designers.
The university ran Shop Front, a pop-up design studio on the first floor of the centre, to help traders promote their businesses. Throughout October, the studio worked with 25 businesses to create new logos, branding, menus, window vinyls and display material.
The initiative was set-up by the university's Business and Innovation department, with funding from Southwark Council's High St Challenge, to help ensure the centre continues to attract customers and remains busy until its planned closure at the end of next year.
55 East opens on East Street
6 November 2017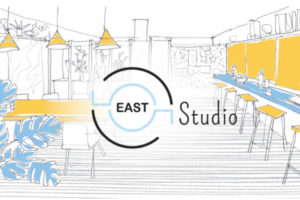 55 East, Elephant and Castle's new community hub for social enterprise, launches on Monday 13 November.
Run by Hatch, one of the UK's leading community enterprise charities, 55 East will promote entrepreneurship and support business and the local community by providing affordable co-working space; a community events and retail hub and a community-run cafe at 53-63 East Street (making use of three previously empty shop units).
Based in the heart of Walworth's historic, bustling East Street Market, 55 East has been funded by Southwark Council and the GLA. Hatch Enterprise, which has supported over 800 entrepreneurs in Southwark and Lambeth since 2013, will run the hub, using their expertise to promote business and social enterprise ideas. 55 East will offer local employment, affordable products, locally-sourced food and strengthen and expand the network of small independent businesses and traders in the area.
Pop in to say hello, check out the new facilities and take advantage of special offers during launch week 13-19 November.
Elephant Park celebrates Guy Fawkes Night
6 November 2017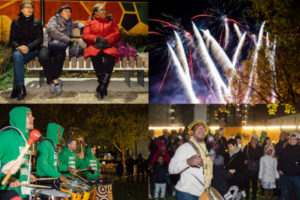 Elephant Park celebrated Guy Fawkes Night on Sunday with a spectacular fireworks display and family friendly entertainment.
The show, which was choreographed to music, was followed by dancing and entertainment, including a fabulous performance from South London Samba.
The centrepiece of Lendlease's Elephant Park development, the first section of the new park opened last August. Sunday's fireworks display was just one of many events which have been scheduled in a year-round programme of community activities and entertainment.
See what's coming up at next at elephantpark.place/events/
Castle Place Project: a crowdfunding success

11 October 2017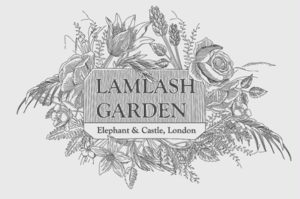 Congratulations to the team behind Lamlash Garden who've successfully hit their £42,100 crowdfunding target for the Castle Place Project.
The local residents plan to bring two neglected sites (near Lamlash) back into use as a new neighbourhood hub complete with community centre, work studios and high quality landscaping. The project will also open up a new pedestrian route through to West Square.
With funding secured, their next step will be to conduct a feasibility study – to be published next summer. Check out their crowdfunding page at www.spacehive.com/castle-place and read more about the project at www.facebook.com/Castleplaceproject
Black History Month
27 September 2017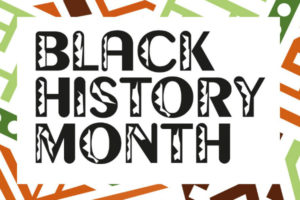 October is Black History Month and dozens of events of events are taking place throughout the borough that explore the heritage of Southwark's African, Caribbean and diaspora communities. And this includes Elephant and Castle.
Husky Studios on Amelia Street are staging a four-day celebration of Afro-Brazilian dance; Mary Seacole, 'the black heroine that history forgot' will be commemorated in a special event on the Draper estate; John Harvard library is running a special session on researching Caribbean family history and the Crypt at St Peter's Church will host an evening exploring the history of education for 'Black Boys – 19th century, present and future.'
All these events and many more taking place in the neighbourhood and surrounds are listed in the council's Black History Month brochure. Most events are free but some need to be booked.
Uncertainty Playground
18 September 2017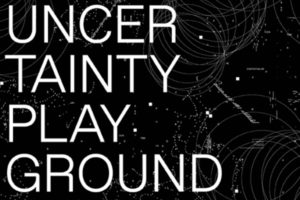 London College of Communication launches Uncertainty Playground at its Elephant and Castle campus on Wednesday 20 September.
Between now and 20 October, each exhibition and event will investigate a different area of work at LCC's Design School including: critical design and digital futures; design for sustainability and social innovation; design communications and practice; and design cultures, histories and futures.
LCC's Design School is a leading advocate of human-centered design, and Uncertainty Playground demonstrates how design staff and students interrogate and design the processes, tools and strategies for navigating a complex world.
The Autumn issue of the Elephant Magazine is out now

11 September 2017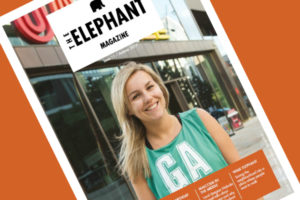 The Autumn issue of the Elephant Magazine is out now.
In this issue:
the latest on the shopping centre and Elephant Park
Walk Elephant: the community initiative that's reconnecting our streets
the horse-powered history connecting Cooper to Caine
Natural Selection at the former Newington Library
11 September 2017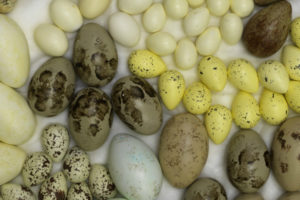 The former Newington Library on Walworth Road has reopened, temporarily, with a new art exhibition, Natural Selection, which will run until November.
Natural Selection is the first project from The Art Academy, which has signed a two-year lease on the library – putting this exceptional building to good use while its long term future is decided upon.
The grade 2 listed Victorian library has been empty due to water damage, following a fire in the adjacent Walworth Town Hall in 2013. The Art Academy, an independent art school, will use the building to provide facilities for its students and offer a public programme of short courses and events. Natural Selection by Andy and Peter Holden runs until 26 November. Read the Guardian's five star review.
Sustainable Food Weekend 15-17 September
4 September 2017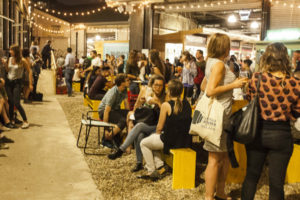 Elephant and Castle's Mercato Metropolitano is hosting a Sustainable Food Weekend as part of London's annual Urban Food Fortnight.
This huge, temporary food market on Newington Causeway will put on a diverse programme of free seminars, cookery classes, interactive workshops and film screenings – all designed to support and promote small farmers, producers, artisans and local communities. The three-day event also promises plenty of entertainment and activities to keep the kids busy.
Sustainable Food Weekend kicks off on Friday 15 September at 3pm with a 'Disco Soup' to celebrate Mercato Metropolitano's first year in the neighbourhood.
Castle Place Project

29 August 2017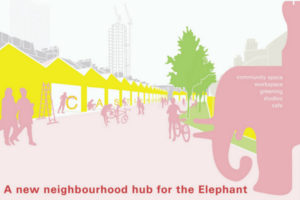 The local residents behind Lamlash Garden are halfway towards their £42,100 crowdfunding target for a new scheme called the Castle Place Project. The idea is to bring two neglected sites (near Lamlash) back into use as a new neighbourhood hub complete with community centre, work studios and high quality landscaping. The project will also open up a new pedestrian route through to West Square.
If you'd like to pledge your support visit www.spacehive.com/castle-place before the 25 September deadline.
Don Letts and Alabama 3 Acoustic to headline Elefest 2017
23 August 2017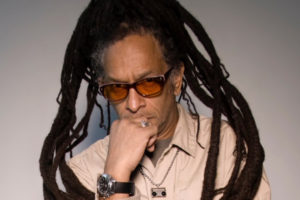 The new Elephant Park will host this year's Elefest on Saturday 2 September.
This annual mix of film, street food and live music will celebrate the past, present and future of SE17, with Alabama 3 Acoustic headlining the live stage alongside south London's very own DJ legend, Don Letts.
This year marks the 15th anniversary of Elefest, which will be held for the first time in Elephant Park, one of the Elephant's newest green spaces, as well neighbouring Castle Square and live entertainment venue Lost Rivers. In addition to live music, there will be local walking tours, dance workshops, children's storytelling and a sunset outdoor screening of The Wizard of Oz. Festivalgoers will also be able to enjoy street food from across the world at the Elephant Social market.
For further announcements follow @Elefest on Facebook and @ElefestLondon on Twitter.
Sounds from the Archive at LCC Studio: 16 August
15 August 2017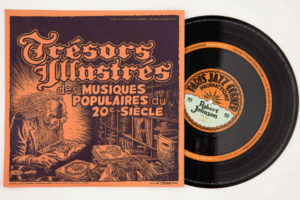 Drop-in to see material currently on show in London College of Communication's Sounds from the Archive exhibition, for free, at LCC Studio in the shopping centre.
In a celebration of post '60s popular and underground culture, visitors will be able to explore the comics, zines and photographs on display alongside archivists from UAL's Archives and Special Collections Centre. These include work by Robert Crumb, zines and videos from the Her Noise Archive, posters and programmes from the London Musicians Collective and photographs by Dick Scott Stewart.
Elephant Park opens
12 August 2017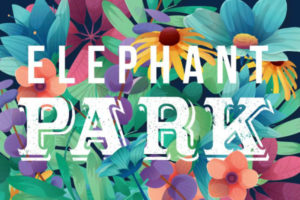 The first part of Elephant Park officially opens today.
The park is the centrepiece of Lendlease's Elephant Park development. The first part of the park officially opens today with a taster event, providing an insight into the kind of activities you can expect to find here in future. Get down to Elephant Road for music, workshops and live theatre.
Artists to inhabit old Newington Library
11 August 2017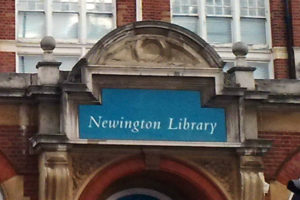 Southwark Council has agreed a two year lease for the old Newington Library in Elephant and Castle, enabling The Art Academy to put this exceptional building to good use, while its long term future is decided upon.
The grade 2 listed Victorian library has been empty due to water damage, following a fire in the adjacent Walworth Town Hall in 2013.
The Art Academy is an independent art school based in Southwark, it will use the building to provide facilities for its students and offer a public programme of short courses and events. In addition the Academy will host CoolTan Arts, a charity that provides creative activities for people with mental health conditions.
Elefest returns for 2017
7 August 2017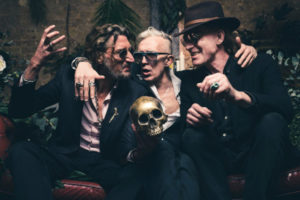 Elefest, Elephant and Castle's annual free festival returns on Saturday 2 September.
Brixton band, Alabama 3 will headline the live stage in the new Elephant Park. The band are the first act to be announced with more to follow. There will also be children's story telling during the day and an outdoor cinema event after sundown. Check back here for updates or follow @ElefestLondon
Plaza Latina: 6 August
1 August 2017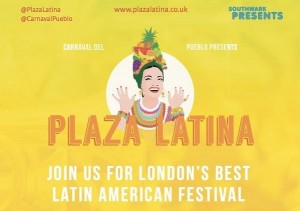 Plaza Latina, London's biggest Latin American festival returns to Elephant and Castle this Sunday, 6 August.
Brought to you by local arts group Carnaval Del Pueblo, this free festival promises the very best in Latin food, music and culture. With a range of events catering for all ages; live music from Gabriel Romero and Fruko y sus Tesosl and a fabulous variety of food – from Argentinian grilled meats through to Peruvian ceviche – this year's party is set to be yet another fantastic celebration of Latin American culture.
Plaza Latina takes place in Nursery Row Park, just off East Street, SE17 1QZ.
Rare Roman sarcophagus excavated at Harper Road
20 July 2017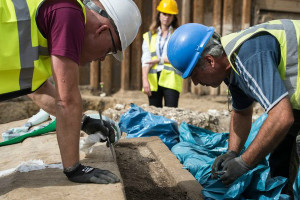 A Roman sarcophagus has been found, excavated, and lifted from its ancient grave at a building site on Harper Road, Elephant and Castle. It's being moved to the Museum of London, where its contents will be exhumed.
With the amount of construction work taking place in the Elephant, an archeological discovery or two was always on the cards, but this is an exceptional find. Only two similar sarcophagi have been discovered in their original place of burial in London in recent years.
The latest archaeological research suggests that this part of Southwark was a focus for ritual activity during the Roman period. The area incorporates a complex ritual landscape containing various religious and funerary monuments and a vast Roman cemetery.
Lost Rivers Launch Party: Friday 21 July
18 July 2017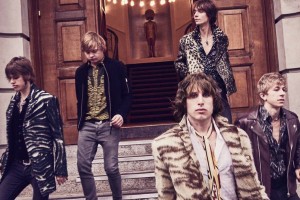 Lost Rivers, the pop-up entertainment venue on Elephant Road, host their official launch party this Friday (21 July).
Lost Rivers Elephant is the latest venture from the Lost Rivers Brewing Company. Housed in a collection of modified shipping containers and with its own mini-big-top performance space, Lost Rivers Elephant is the perfect companion to the Artworks business hub and food-court, next door.
Head over this Friday from 6pm to enjoy great food, crisp craft ales and live music courtesy of blues rockers The Second Sons.
St Mary's Churchyard Fun Day: Friday 21 July
15 July 2017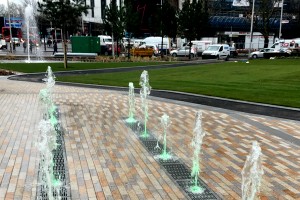 Join us at St Mary's Churchyard on Friday 21 July to celebrate the official reopening of the park following its £1m revamp.
This popular park in Newington Butts has had a complete makeover including the addition of a children's playground with dedicated under 5s play area; a new, paved plaza, wildlife planting and two new water features.
The fun day runs from 1pm to 4pm and will feature: bouncy castles; competitions and prizes; a Castle Centre membership promotion plus the countdown to the official switch on of the new fountains at 1.30pm.
Castle Square launches with a lively new weekend market
10 July 2017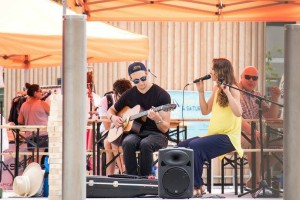 Castle Square, the new public square at Elephant Road, has started to make its presence felt with a brand new market trading every Friday and Saturday.
The Social Market, which launched last weekend (8 July), opposite the mainline station, joins Artworks and Lost Rivers in what's rapidly becoming the Elephant's liveliest location.
This chilled-out summer market is the perfect partner for the Elephant's newest public space. You'll find a delicious line-up of good food, farmers' market traders, cooking demos, local designers, live music and workshops, all creating a wonderful, family-friendly atmosphere at Castle Square every Friday and Saturday from 11am to 6pm.
Elephant Square street food market
3 July 2017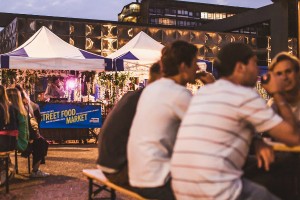 A new street food market has started-up at Elephant Square.
The market, which began last week (28 June) on the site of the former roundabout, is the latest venture from the team behind Corsica Studios and the Paperworks (named Time Out's 'Top of the Pop-ups' 2014).
Set to run till autumn, this latest addition to the neighbourhood's lively dining scene is the perfect way to enjoy summer in the Elephant. Look out for naked salads, jerk chicken burgers, super fresh Vietnamese and much more every lunchtime – Wednesday to Friday – and Friday evenings too.
Southern Exposure Film Fund launch
31 June 2017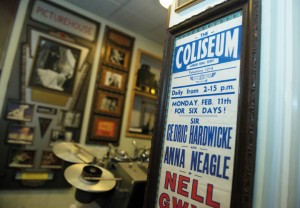 Elephant and Castle's Cinema Museum will host the launch for the Southern Exposure Film Fund's latest round of applications on Friday 7 July.
Budding filmmakers from Southwark and Lambeth are invited to come along to watch the latest films and quiz the fund's filmmakers and trainers. This year, up to four projects from local residents will be awarded grants from a £10,000 pot. The successful applicants will also be offered tailor-made support in film development, production, post-production, marketing and distribution.
The Castle celebrates its first anniversary
12 June 2017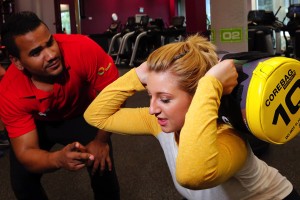 The Castle, Southwark Council's new leisure centre at St Mary's Churchyard, celebrated its first anniversary in May.
In its first year since opening on the 30 April 2016, the Castle has had more than 450,000 visits.
The opening of the Castle was a major milestone in the Elephant's regeneration. A much needed replacement for the old, 70s leisure centre, the Castle was built using £20m of regeneration money contributed by Lendlease. It includes a six lane, 25 metre swimming pool, a sports hall and a fully equipped gym and indoor cycle studio.
More than 2,500 people have already signed-up as gym members and local residents have taken to the centre like ducks to water – taking advantage of more than 100,000 free swim and gym sessions so far.
Happy Birthday to the Castle!
These news stories are archived from 2017. See all the latest news here.